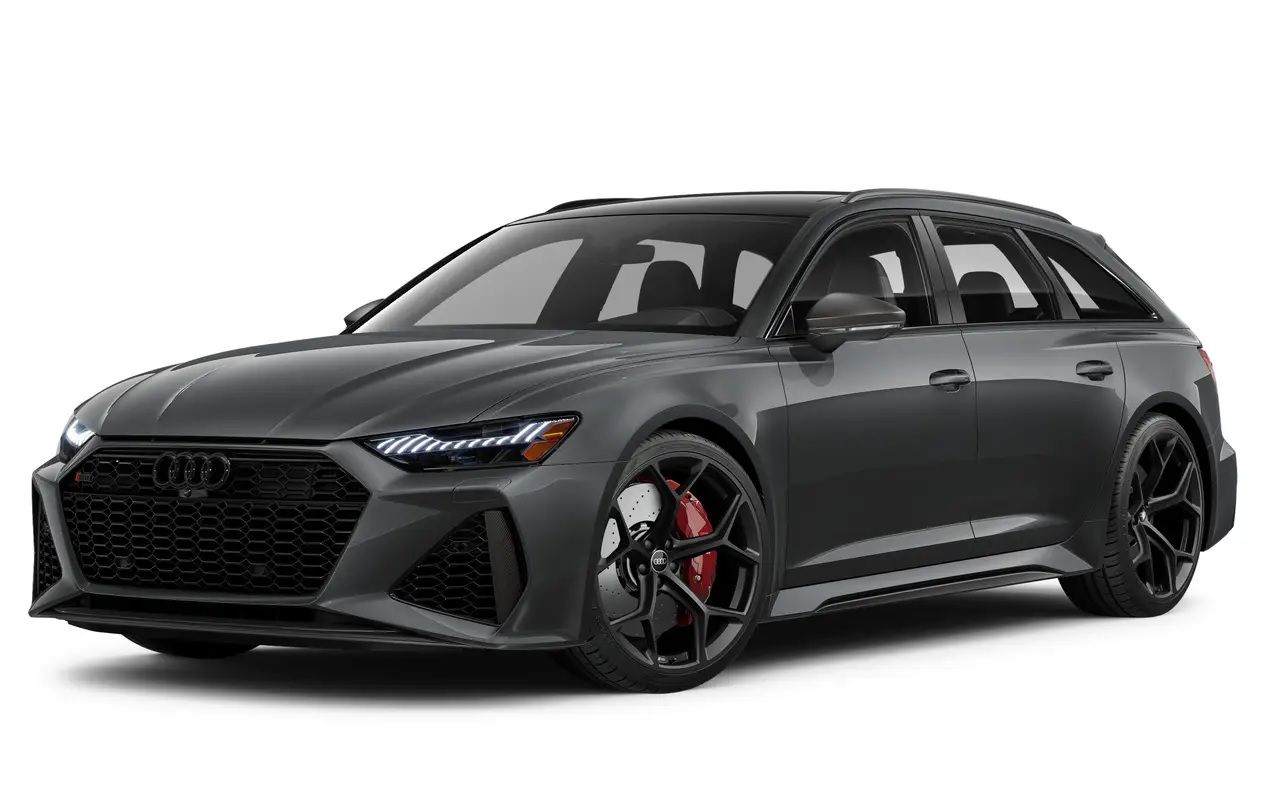 The Audi RS6 Avant is already an incredible high-performance wagon. With its powerful twin-turbo V8 engine and sharp handling, it blends practical family transport with supercar rivaling speed and driving thrills.
For 2024, Audi is taking this special formula to new heights with the introduction of the RS6 Avant Performance model. This enhanced version builds on the recently introduced third-generation "C8" Audi RS6 Avant, bringing more power, reduced weight, design tweaks, and chassis refinements.
An Iconic High-Performance Wagon Gets More Power
Ever since its debut in 2002, the Audi RS6 Avant has delivered a tantalizing blend of family wagon practicality and crushing performance. The latest 2024 RS6 Avant Performance cranks up the excitement by extracting more horsepower and torque from its twin-turbo V8 engine. As a result, it boasts superior straight-line speed along with even quicker reflexes when attacking corners.
The twin-turbo 4.0-liter V8 sees its output swell from 591 horsepower and 590 lb-ft of torque to a heady 621 hp and 627 lb-ft in Performance guise. This 30 hp / 37 lb-ft improvement comes courtesy of larger turbochargers and increased boost pressure forcing more air into the combustion chambers.
Harnessing this extra grunt is the RS6's standard Quattro all-wheel drive system. Its ability to transfer massive torque to the road is enhanced by a redesigned mechanical center differential that's both lighter and more compact.
0-60 MPH Acceleration Under 3.5 Seconds
Translating the engine's gains to raw performance, Audi says the RS6 Avant Performance will rocket from 0-60 mph in just 3.4 seconds. That's 0.2 seconds quicker than the standard model's 3.6-second time. Multiple reviewers have verified a sub 3.5-second sprint in their test drives, which is incredibly quick for a full-size wagon.
The abundant low-end torque provides tremendous thrust right off the line. The Performance model's reprogrammed 8-speed automatic transmission bangs through the gears even quicker in Dynamic mode to keep the V8 on boil. For those who prefer manual control, large steering wheel paddles enable quick shifts on demand.
Increased Top Speed Potential
In addition to quicker acceleration, the RS6 Avant Performance boasts a higher top speed potential versus the standard RS6. Both models come with an electronically limited top speed of 155 mph in their base configuration. However, the Performance model can be equipped with an optional package that bumps the limiter all the way up to 174 mph with proper tires.
This increase comes courtesy of the more powerful V8 engine's extra headroom combined with subtle aerodynamic enhancements. As one of the fastest and best-handling wagons ever made, the RS6 Avant Performance will feel remarkably composed and planted at Autobahn speeds that would have many sports cars breaking into a nervous sweat.
Refined Handling and Sharper Reflexes
While building a engines with colossal power is an Audi forte, so is cultivating incredible handling. To that end, the RS6 Avant Performance benefits from a variety of chassis and suspension upgrades aimed at honing dynamics and reflexes.
One area of improvement is the steering precision. Redesigned front suspension geometry gives the Performance model quicker turn-in response and reduced understeer in Dynamic mode. The optional dynamic ride control suspension with steel springs also enhances cornering grip and sharpness over the standard air suspension.
Massive six-piston brake calipers with optional carbon ceramic rotors provide incredible stopping power from high speeds. Staggered summer performance tires measuring 285/35R22 at the rear axle round out the major dynamic enhancements.
Weight Saving Measures
In pursuit of the best power-to-weight ratio, Audi put the RS6 Avant Performance on a moderate diet. New lightweight 22-inch forged alloy wheels pare approximately 20 pounds of unsprung weight compared to the standard RS6 Avant's wheels. Every pound saved from rotational mass makes a dramatic improvement in acceleration, braking, and turn-in quickness.
Additionally, Audi removed roughly 17 pounds of sound insulation from the cabin. This allows more induction, turbo, and exhaust noises to reach the driver's ears. The sensory amplification heightens the Performance model's rawness and engagement versus the standard version.
Distinct Exterior Style with Carbon Fiber and Gray Accents
Visually differentiating the RS6 Avant Performance from a standard RS6 Avant are an assortment of gloss carbon fiber and dark gray exterior accents. These trim pieces enhance the wagon's sinister personality.
Up front, the large honeycomb grille, front spoiler lip, and front/side fender vents all gain a dark tinted appearance. The side skirts follow suit, as do the exterior mirrors and window surrounds. Out back, the RS6 Avant Performance announces itself through a gloss black rear diffuser and subtly reshaped tailpipes with oval tips.
The doors project the RS Performance name onto the ground from LED lights when opened, similar to higher-end Audis like the R8 supercar. Optional packages allow buyers to double down on carbon fiber exterior and interior trim for the ultimate upscale racing aesthetic.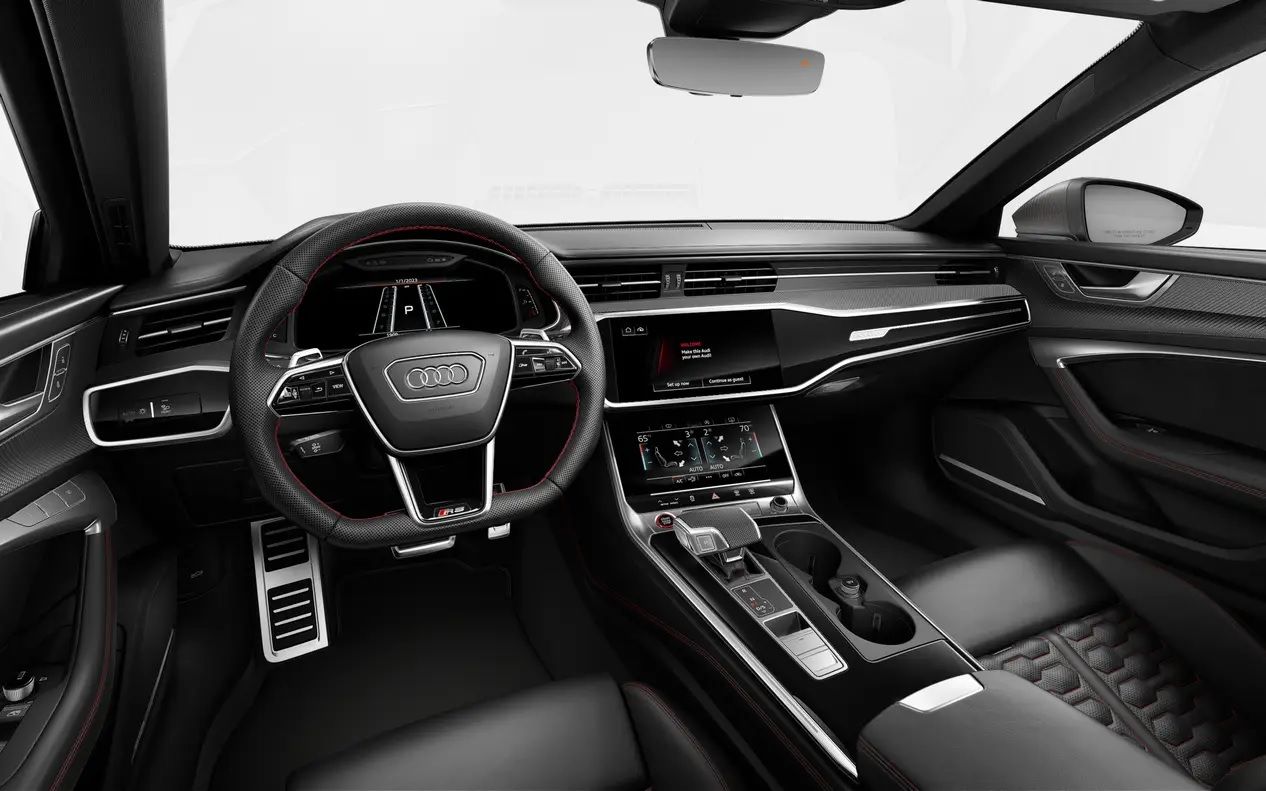 Cabin Focused on Driving Enjoyment
Inside, Audi designers crafted the RS6 Avant Performance's cabin for maximizing interactive driving enjoyment. It starts with the flat-bottom steering wheel in perforated leather with contrast stitching and larger aluminum paddle shifters. The wheel-mounted drive mode selector and RS button offer quick access to customize the car's behavior.
Most surfaces are wrapped in upscale materials like leather, Alcantara faux suede, aluminum, and carbon fiber. Snug sport seats provide abundant lateral support and feature unique Performance color options. The Virtual Cockpit displays switch to a motorsport-inspired black-and-white layout. RS Performance badging sets an exclusive tone throughout the interior.
Arrival Timeframe and Pricing Details
The 2024 Audi RS6 Avant Performance will begin reaching American Audi dealerships in the fall of 2024 as a 2025 model-year vehicle. Only a limited number will be allocated for the US market.
Pricing starts at $126,895 - a reasonable increase over the standard RS6 Avant considering the extent of upgrades included. Only time will tell if this sharper and more potent version can build on the standard wagon's towering reputation.
But with its enticing formula of practical utility blended with supercar humbling performance, the newest RS6 Avant Performance looks ready to claim the title as the ultimate all-arounder.
2024 Audi RS6 Avant Performance vs Standard RS6 Avant
| Spec | RS6 Avant | RS6 Avant Performance |
| --- | --- | --- |
| Engine | 4.0L Twin-Turbo V8 | 4.0L Twin-Turbo V8 |
| Horsepower | 591 hp | 621 hp |
| Torque | 590 lb-ft | 627 lb-ft |
| 0-60 mph Time | 3.6 seconds | 3.4 seconds |
| Top Speed | 155 mph (174 mph w/ package) | 174 mph |
| Wheels | 21-inch standard | 22-inch standard |
| Length | 197.7 in | 197.7 in |
| Curb Weight | 4,992 lbs | 4,975 lbs |
| Base Price | $109,000 | $126,895 |
In summary, the latest RS6 Avant Performance looks ready to build on this wagon's already stellar reputation. With added power, honed handling, and exclusivity, it's a supercar tamer with space for the family. This new Audi perfectly balances practicality and outrageous high-performance thrills.