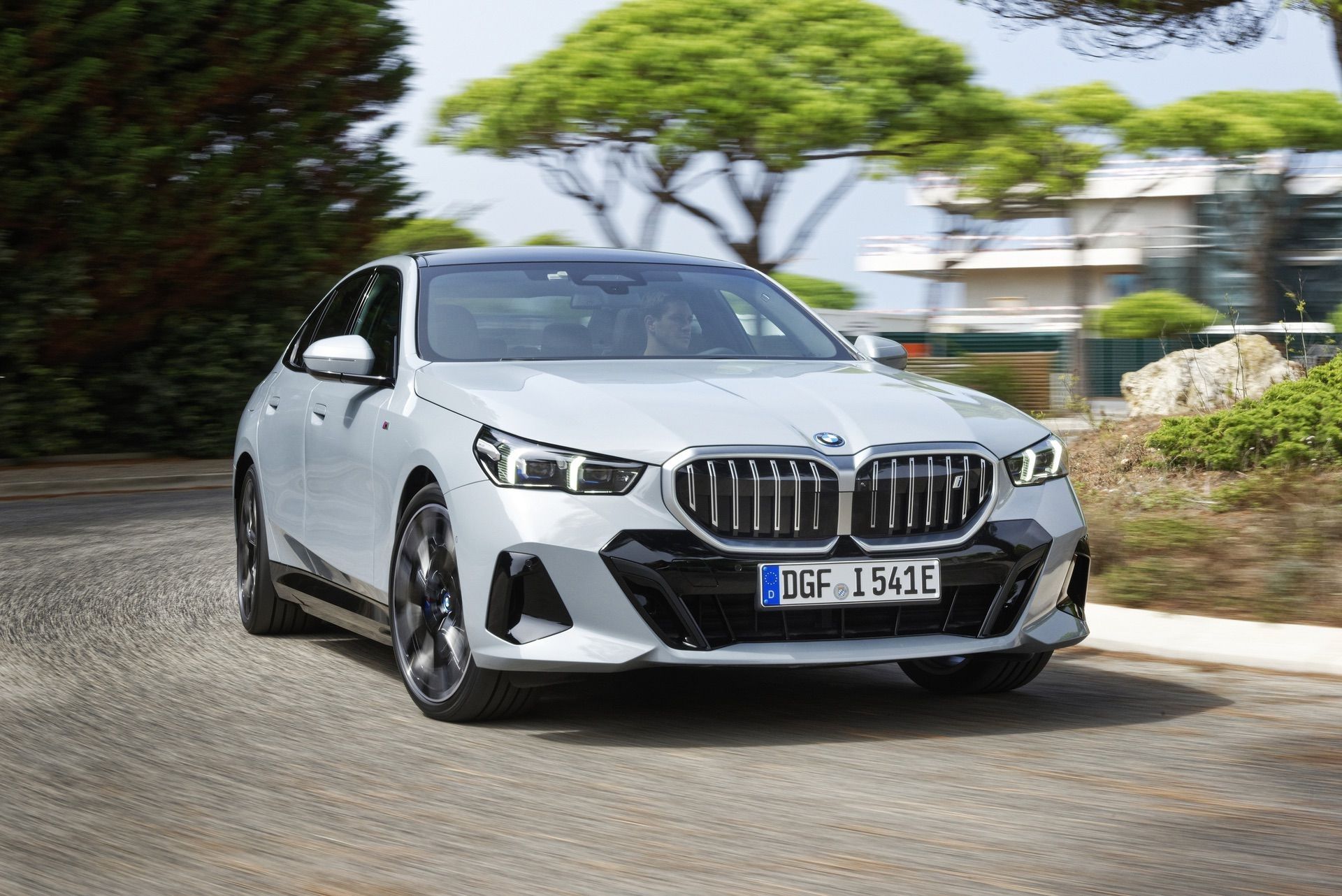 BMW is entering a new era of electric luxury sedans with their highly anticipated 2024 i5. As the EV variant of the popular 5 Series model range, the i5 brings zero-emissions power to BMW's midsize segment.
In this in-depth review, we'll cover everything you need to know about the technology, performance, interior, pricing, and more on BMW's landmark electric sedan.
Exterior Styling - Evolutionary Not Revolutionary
At first glance, you may not even notice the 2024 i5 is a fully electric vehicle. BMW chose to evolve the exterior design of the 5 Series rather than completely reinvent it. The basic proportions and silhouette remain familiar. However, several styling cues distinguish the i5 as part of BMW's new EV lineup.
The traditional BMW twin kidney grilles are retained but now illuminated with an eye-catching lighting signature. This gives the front fascia a high-tech look. The sides receive flush door handles and aerodynamic molding for smoothing airflow. Blue accents surround the BMW roundel badges to signify the i5's EV status.
While not radically transformed, refinements to the exterior optimize the i5 for electric propulsion. It has a completely flat underside to reduce aerodynamic drag.
The standard wheels are an efficient 20-inch diameter design, as smaller wheels decrease rolling resistance which improves range. Optional 21-inch wheels look great but hurt the range significantly. Active air flaps further improve aero by closing off certain grilles when not needed.
Overall, the i5 exterior styling walks a fine line between radical and familiar. For some buyers, this evolutionary approach will hit the right mix of innovation and brand identity. Others may wish BMW pushed the styling envelope further on their flagship EV sedan.
Key Specs and Features
| Feature | Details |
| --- | --- |
| Battery | 84.3 kWh usable |
| Range | Up to 295 miles |
| 0-60 mph | 3.7 seconds (M60) |
| Maximum Power | 335 hp (eDrive40), 590 hp (M60) |
| Charging | Up to 80% in 30 min (DC fast) |
| Dimensions | 16.3 ft length, 6.0 ft width |
| Wheels | 20" standard, 21" optional |
| Seating | 5 passenger |
| Cargo Space | 15.6 cubic feet |
| Towing Capacity | Not rated for towing |
| Driver Assistance | Autonomous driving mode |
Two Powerful Electric Powertrains
The 2024 BMW i5 will launch with a choice of two powertrains:
eDrive40 - Single electric motor powering the rear wheels produces 335 horsepower and 295 miles of EPA estimated driving range. Starts at $67,795 MSRP.
M60 xDrive - Dual electric motors enable all-wheel drive and produce a massive 590 horsepower. EPA range estimate of 256 miles per charge. Starts at $85,095 MSRP.
In test drives of the M60 prototype model, its performance was hugely impressive. The instant torque of the electric motors rockets the i5 from 0-60 mph in a blistering 3.7 seconds. On back roads, the AWD system provides a tenacious grip while torque vectoring makes cornering feel agile and playful.
Even with its high-performance setup, the M60 retains the same smooth and quiet ride quality expected from a luxury BMW sedan. However, the tradeoff is reduced driving range compared to the more efficient single-motor eDrive40.
For power and handling, the M60 is tough to beat. But buyers wanting to maximize real-world range for daily commuting may prefer the eDrive40 rear-wheel drive model.
Spacious, Tech-Laden Cabin
Stepping inside, the 2024 i5 interior provides a preview of the next-generation 5 Series cockpit. You're surrounded by state-of-the-art screens and luxury materials.
A curved 12.3-inch digital gauge cluster displays speed, range, navigation, and more right in the driver's line of sight. Beside it, a massive 14.9-inch center touchscreen handles the infotainment system and climate controls. Even the passenger gets their own 5.5-inch display.
BMW's latest iDrive 8.5 software looks sleek and operates smoothly. Wireless charging, an in-car WiFi hotspot, and a top-tier Harman Kardon surround audio system are standard. The glass iDrive controller and audio knobs add high-tech bling.
Everything from the sunroof to door handles gets an upscale feel. You can opt for leather-free upholstery, but supple Merino leather remains available to wrap the 16-way adjustable front seats. The cabin ambiance is more reminiscent of a 7 Series luxury flagship than any previous 5 Series.
Rear seat space is generous, with passengers getting their own climate and entertainment controls. Trunk space is slightly reduced from BMW's gas models to accommodate the battery pack but remains sufficiently large at 15.6 cubic feet.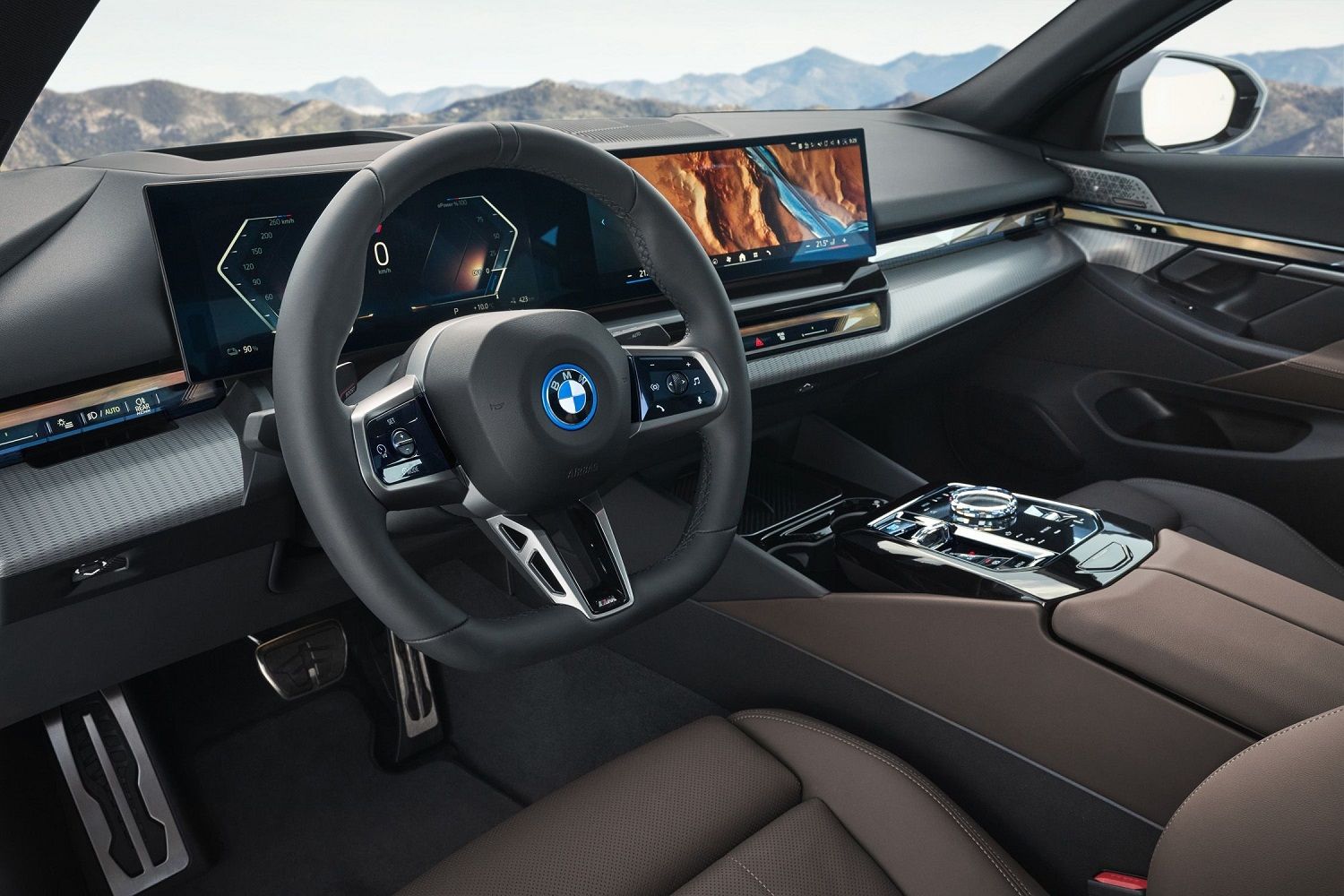 Cutting-Edge Driver Assistance Systems
As BMW's newest EV, the i5 comes loaded with high-tech driver assistance and semi-autonomous features. Software updates delivered wirelessly keep these systems up to date.
A standard surround-view camera system provides a bird's eye view around the car while parking. Available automated assistance features include:
Adaptive cruise control with stop & go capability
Lane-centering steering assist
Blind spot detection with collision avoidance
Automated parking both parallel and perpendicular
Highway Assist - a hands-free driving mode operable on limited access roads
These make the i5 one of the most advanced sedans available today in terms of self-driving capability. However, drivers should still pay full attention at all times.
Battery, Charging, and Driving Range
Under the floor of the i5 lies an 84.3 kWh battery pack. The usable battery capacity works out to 81.2 kWh. This feeds energy to the electric motor(s) that power the sedan.
On the EPA test cycle, the eDrive40 rear-wheel drive model earned an impressive 295 miles of driving range. Opting for the performance-oriented dual motor AWD M60 model reduces the range to 256 miles.
Your real-world range will vary based on driving style and conditions. For instance, high-speed highway driving consumes more energy and reduces range faster than lower-speed local roads. Colder winter temperatures also impact range negatively.
Recharging the battery pack from 10% to 80% charge takes just 30 minutes on a DC fast charging station. A standard Level 2 home charger will fully recharge in under 8 hours. Every new i5 comes with 3 years of free 30-minute fast charging sessions at Electrify America public charging stations.
Agile Handling with All-Wheel Drive
BMW's engineering prowess shines through in the i5's handling capabilities. The low center of gravity provided by the underfloor battery pack gives the sedan confident poise through corners.
To enhance agility further, BMW equips the i5 with advanced traction technology. The base eDrive40 powers just the rear wheels, but its traction control system can brake the inside rear wheel through turns to sharpen turn-in.
The M60 model takes things to another level with its dual electric motors enabling all-wheel drive. Full-time AWD gives it tremendous grip and stability when accelerating or changing direction. Torque vectoring applies precise braking forces to individual wheels for tighter line-holding mid-corner.
Finally, rear-wheel steering on the M60 turns the back wheels opposite the front wheels at low speeds for a tighter turning circle. At higher speeds, they turn in phase with the fronts for enhanced stability.
Add in the suspension adjustments on M60 models like stiffer bushings and anti-roll bars, and this 5 Series has agility unprecedented in its class. It delivers a true driver's sedan experience, now with the added power of electricity.
Expected Release Date and Pricing
The highly anticipated 2024 BMW i5 is expected to reach dealerships in late 2023 as a 2024 model year vehicle. It will go on sale alongside the newly redesigned gas-powered 5 Series sedan range.
Official pricing has yet to be announced. Market analysts expect the i5 eDrive40 to start at around $68,000 USD before destination fees. Stepping up to the high-performance i5 M60 likely requires a budget closer to $85,000.
Of course, loaded with options, it's easy to push the i5 price tag over $100k. But that's expected for a cutting-edge electric luxury sedan.
Competitors like the Tesla Model S and Mercedes EQE price similarly configured models in the same ballpark. The i5 also significantly undercuts its larger stablemate, the i7 electric 7 Series sedan.
The i5 Sets New Standards for Electric Luxury
BMW aims to set new benchmarks with their game-changing i5 sports sedan. It promises 5 Series driving enjoyment and luxury in a thoroughly modernized EV package.
Early impressions suggest the i5 will deliver everything from imposing presence to interior refinement. Its curvaceous screens and sustainable interior materials provide a four-door lounge experience. Out on the road, next-level traction technology unlocks handling limited only by the driver's skill.
No midsize luxury sedan yet fuses electric performance with BMW prestige as seamlessly as the 2024 i5. While not radically transformed outside, the i5 moves BMW quietly but confidently into the zero-emissions future. For buyers seeking electric power wrapped in familiar BMW athleticism and cachet, the i5 is sure to seduce.