Mercedes is a name that warrants attention and respect within the automotive industry. They have been pivotal in shaping the automotive industry. They have a diverse portfolio of cars that touch on every aspect of the car owner's imagination.
One of its most famous section is the SUV section or the G class. While the cars in this section were designed to be a symbol of class and luxury. However, this little section fell behind its competitors who were modernizing the design and features.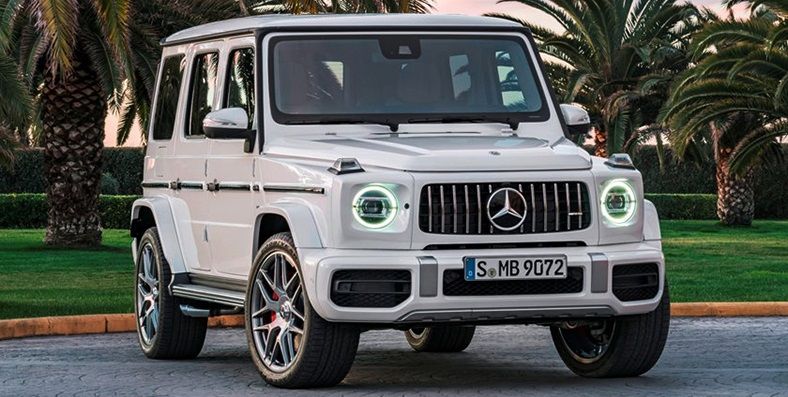 That all changed when Mercedes unveiled the Mercedes AMG G63. This is a car that has been modernized to its full extent. Now, if you want to be at the top of all SUVs there is no better option than this model right here.
So why is the AMG G63 such a head-turner? Well, in the following passages you will find an in-depth Mercedes AMG G63 review that will answer all your burning questions about this stunning SUV. So let's begin!
What The New 2020 Mercedes AMG G63 Offers
So the new 2020 Mercedes AMG G63 offers an off-road option which is a first for the G-Wagen series. The AMG Trail package offers you all-season tires, matte-black wheels, revised suspension damping, a gloss-black front skid plate, rear mud flaps, and all-weather floor mats.
On top of that, every AMG G63 comes equipped with an AMG Drive Unit. This means you have easy access buttons on the steering wheel with which you can adjust the drivetrain and chassis settings. As of the 2020 Mercedes AMG G63 Wagon price well, it starts around 150000 dollars.
The G63 4Matic is around 153495 dollars but there are a few options you should be taking along with it. The standard option will come equipped with 20-inch wheels, adaptive suspension damping, a front brush guard, leather upholstery, heated front and rear seats, and three-zone climate control.
But on top of this, you should think about getting the Seat Comfort package and the AMG Trail package. This will give your speed a boost as well raising it from 137 mph to 149 mph.
2020 Mercedes AMG G63 Specs & Performance
The  2020 Mercedes AMG G63 is a beast of a car. This luxury SUV comes equipped with a twin-turbocharged 4.0-liter V-8 engine that generates around 577 horsepower and 627 lb-ft of torque. This is a 4matic meaning that it is an all-wheel-drive wagon.
The G63 is equipped with a  nine-speed automatic gearbox with steering-wheel-mounted paddle shifters this allows the car to send power all throughout the car quite easily. The G63 has low-range gearing as standard along with three locking differentials.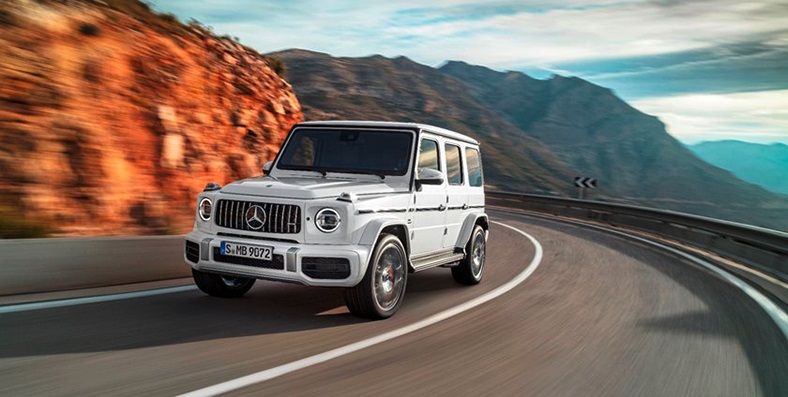 This means that this SUV can easily scale steep dirt grades. The G63 is deceptively agile for its big size. On the test track, this car was reported to have gone from 0 to 60 mph within 3.9 seconds.
While the added AMG-specific suspension tuning does provide better comfort than the previous generation you cannot expect a lot. This is because of the height of the car and its off-road capabilities. It handles better than before but still, improvements can be made.
One thing that does need improvement is the wind noise. There is still significant wind noise when the car reaches highway speeds. But one thing for sure the towing capability has been improved upon.
If you can stock up the car properly then it will be able to tow 6300-6500 pounds easily. In terms of mileage well, I don't think you yourself expect savings from a gas-guzzling high-speed luxury SUV. The Mercedes Benz AMG G63 offers you a measly 13 MPG in the city and 15 MPG on the highways.
2020 Mercedes AMG G63 Interior, Connectivity & Safety Features
The rectangular cabin of the G63 is reminiscent of its past iterations but the cabin is very much modern. While you will get nostalgic at first look but when you sit down and start the luxury SUV you will see that the interior is very tech-savvy. At first glance, you will notice the 12-inch digital instrument panel and you will the high-quality materials surrounding you.
It also has other convenient features like cupholders and a surround-view camera system. The car is a behemoth. So tall drivers and passengers will find ample legroom and headroom on the front and back seats.
Now you will need some power to open the slide-hinged gate at the back as the G63 still doesn't have a power liftgate. The cargo space of the G63 is at a respectable 38 cubic feet with the rear seats up. When folded that increases to about 69 cubic feet.
The standard G63 comes with a 12-inch infotainment display and is equipped with Android Auto and Apple CarPlay integration as well as navigation. It also houses two USB ports along with an SD card reader.
Along with that, you will get a free 3-year subscription of Mercedes-Benz's connected car services. This includes remote engine starting and stolen vehicle tracking. As an option, you can take Wi-Fi and a rear entertainment system that comes equipped with a dual 10.0-inch touchscreen.
Both the screens come with USB, auxiliary, and HDMI ports. When it comes to safety and driver assistance the G63 isn't that impressive. We are yet to see results from the National Highway Traffic Safety Administration (NHTSA) nor the Insurance Institute for Highway Safety (IIHS) for the G63.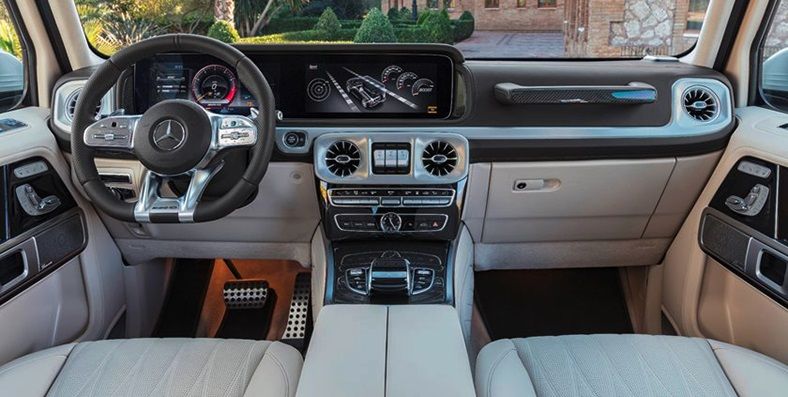 While other cars like the crossovers from Mercedes have several driver-assistance aids the G63 doesn't come with that many. While this model offers adaptive cruise control but it doesn't have advanced features like extended restart capability.
So the basic safety features of the 2020 Mercedes AMG G63 include a forward-collision system with automated braking. On top of that, it has adaptive cruise control, lane-keeping assist, and blind-spot monitoring.
In the warranty and maintenance department, the G63 isn't that impressive. The 2020 Mercedes AMG G63 Limited warranty covers 4 years or 50,000 miles. And it also has a Powertrain warranty covers 4 years or 50,000 miles. One of the most disappointing things about the G63 is the fact that Mercedes does not offer any complimentary scheduled maintenance.
A Beast Of A Car
Well, there you go that's all there is to know about the 2020 Mercedes AMG G63. Before you think about getting a luxury SUV then check out our 2020 Mercedes AMG G63 review. This will most definitely help you out.
And if you want to make a statement then this is one of the best cars you can get. In my opinion if you are going for the utmost symbol of opulence then get the AMG G63. And that concludes our take on the Mercedes AMG G63. Let us know in the comments below which luxury SUV you fancy. Till then, Adios!