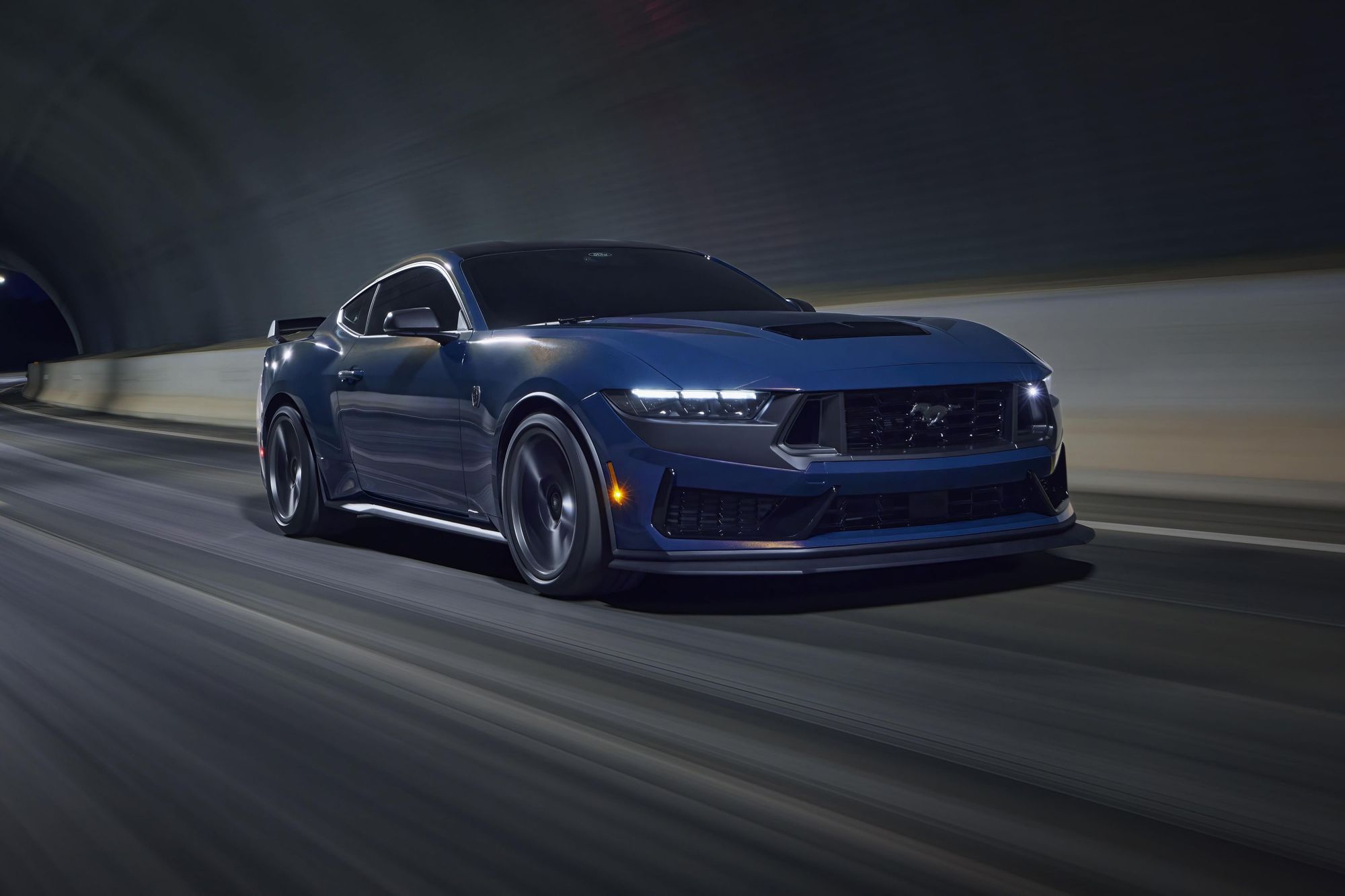 Ford is taking the iconic Mustang to thrilling new heights of performance with the upcoming 2024 Dark Horse edition. This track-tuned pony car represents a major evolution in Mustang power and handling capabilities.
I was fortunate to get an exclusive early preview of the Dark Horse model at the recent 2022 New York International Auto Show. In addition to seeing this new beast up close, I also took a short but exhilarating test drive on the streets of Manhattan.
Keep reading for my in-depth Dark Horse first impressions including a full rundown of the styling, powertrain, chassis upgrades and more. This is one Mustang that demands a close look under the hood!
A Fitting NYC Debut for the Next-Gen Mustang
It felt appropriate that I got my first glimpse of the 2024 Ford Mustang Dark Horse in New York City. After all, this is the place where Mustang mania first took hold.
The original Mustang made its debut at the 1964 New York World's Fair, taking the world by storm with its sporty styling and approachable performance. It became an instant home run as pony car fever swept across America.
Fast forward six decades and the Mustang remains Ford's most iconic model. The Dark Horse represents the next chapter, pushing the boundaries of performance even further for a new generation.
Ford displayed the Dark Horse prominently at their 2022 New York Auto Show stand. Seeing this menacing Mustang under the bright lights, it's clear that something special is going on here. The upgrades are obvious at first glance.
But there was more in store - Ford also provided me with exclusive access to review the Dark Horse up close and chat with the engineering team. Let's dive into the details!
Exterior Styling Mixes Classic and Modern Cues
The core Mustang profile remains instantly recognizable from the long sculpted hood to the fastback roofline. But the Dark Horse adds plenty of unique styling touches that set it apart.
Starting up front, the Dark Horse gets an aggressive blacked-out grille and lower fascia treatment. The triple-bar headlights with LED accents connect the new Dark Horse to iconic early Mustangs.
Along the sculpted sides, metallic Dark Horse badging now adorns the front fenders. The rear flares are stretched to accommodate wider rear wheels and tires. Black side sills help tie the look together.
Out back, a prominent fixed rear wing mounted above the rear window provides downforce. Down below, the quad exhaust tips leave no doubt this pony means business. The rear fascia loses the faux vents for a clean, modern appearance.
This white and gray color scheme emphasizes the classic Mustang vibe, but Ford says the signature Dark Horse exterior shade will be an ominous-sounding Ember gray metallic. Expect plenty of unique appearance packages too.
The overall look blends heritage styling cues from the 60s with a more muscular, menacing attitude - mirroring this Mustang's upgraded performance pedigree.
But enough about looks, let's examine what really makes this Dark Horse gallop!
Heart of the Beast: A 500+ HP 5.0L Coyote V8
Now we get to the good stuff. Popping the hood reveals the Dark Horse's party piece: a 5.0-liter "Coyote" V8 producing over 500 horsepower! This represents a new pinnacle for Mustang GT power.
The engine experts at Ford Performance worked their magic to extract more than 500 hp from the 5.0L V8 without resorting to a supercharger. This is all-motor power!
Modifications include a revised intake manifold with 87mm throttle bodies, upgraded oil delivery system, and recalibrated ECU tuning. The strut tower brace improves chassis rigidity and adds style points.
Just listening to the Dark Horse at idle - you can tell this Coyote means business. I cannot wait to experience the full-throttle acceleration in the finished production car. For now, listening to it rumble through Manhattan was music to my ears.
| Specs | Details |
| --- | --- |
| Engine | 5.0L "Coyote" Ti-VCT V8 |
| Power | 500+ hp @ 7,500 rpm (est) |
| Torque | TBD lb-ft |
| Transmission | 6-speed manual or 10-speed auto |
Now some may wonder why Ford didn't throw a blower on there to chase bigger numbers. But for the target buyer, that burly naturally aspirated torque curve is ideal for the track.
This V8 sets a new standard for naturally aspirated Mustang power. Combined with the signature Coyote exhaust note, it should deliver an intoxicating thrill ride.
Shifting Options
Buyers have two transmission choices:
6-speed manual - Hallelujah! Smoother shifts and a nicer clutch feel than before. Gotta love the third pedal.
10-speed auto - Ford's own 10-speed is super quick and responsive. Paddle shifters let you pick gears.
Either way you get snappy acceleration. I'd personally stick with the manual for maximum fun. But nice to have options!
Built for Conquering Road Courses
Because the Dark Horse aims to devour racetracks and backroads with even more authority - not just cruise the drag strip. This new range-topping Mustang has handling and braking to match the power.
The Ford team re-tuned and upgraded nearly every aspect of the chassis for track-focused performance. The MagneRide suspension benefits from revised damping, stiffer springs, and thicker stabilizer bars to minimize body roll and improve response.
The electric power steering system is re-calibrated for better on-center feel and feedback. This combines with a quicker steering ratio for enhanced agility and turn-in. Wider front and rear track width contribute to the planted stance.
Large 6-piston Brembo brake calipers provide the stopping power needed for repeated hard laps. Custom Pirelli P Zero tires offer max stickiness around corners and high heat durability on track.
Further aiding acceleration and grip is a TORSEN limited-slip rear differential. A larger radiator and differential cooler prevent power-robbing heat soak during aggressive driving.
Cockpit upgrades include thickly bolstered Recaro sport seats and a unique Dark Horse gauge cluster. The Alcantara-wrapped steering wheel feels built for chasing lap times.
I have no doubt this new halo Mustang will achieve incredible track performance capabilities.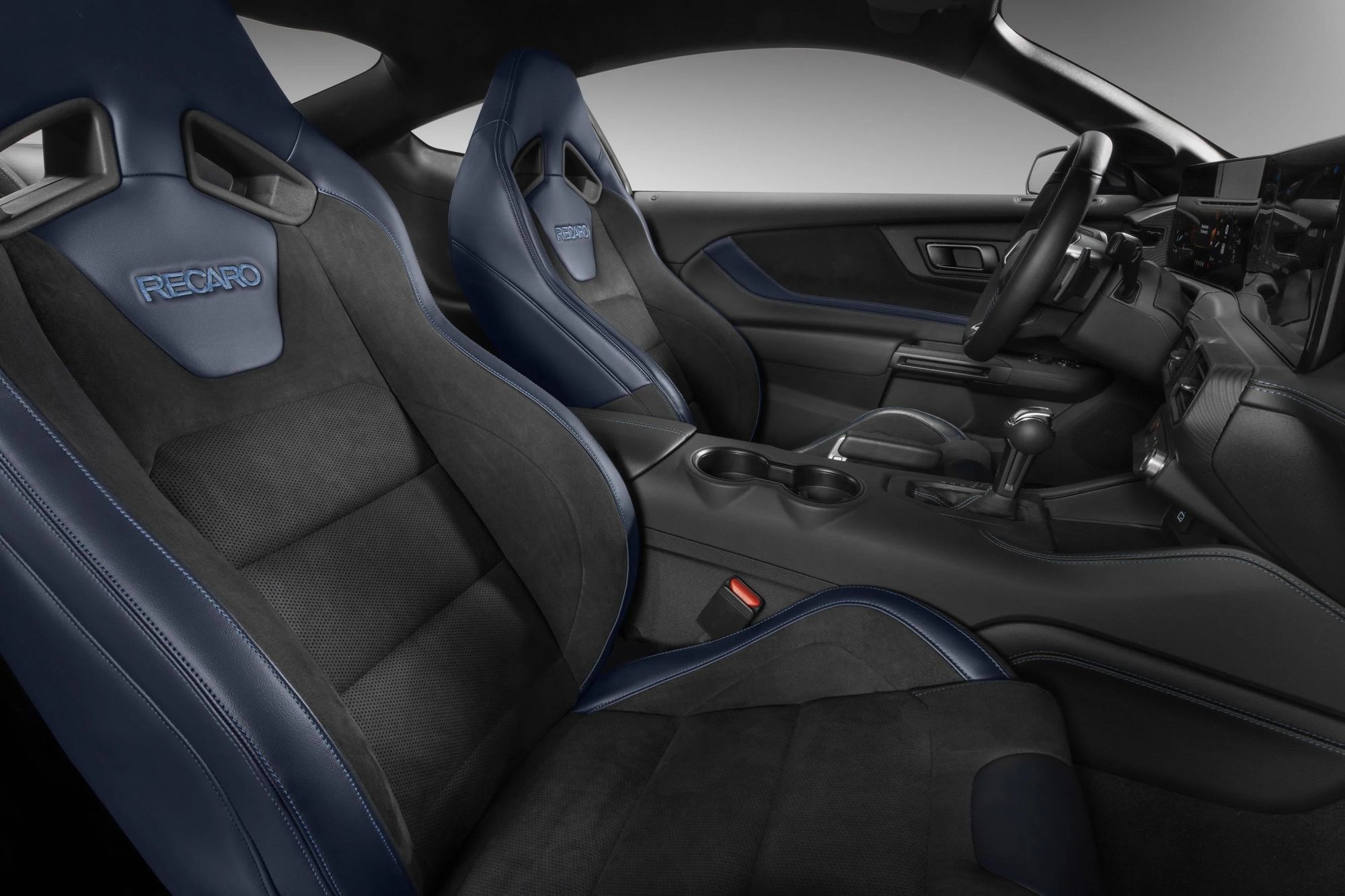 Inside the Cockpit
Opening the doors reveals a driver-focused interior. The displays wrap around the front seats for a true cockpit feel. Ford positioned the screens to face the driver for better visibility.
Gone are the days of plain black plastic dashes! This Mustang looks high-tech but keeps things simple. Physical knobs and buttons stay for volume, tune and climate controls. Less hunting through menus. Nice!
And Ford kept the traditional shifter and handbrake. You need that mechanical feel in a real driver's car. No paddles or buttons here! The Dark Horse balances new and old beautifully.
Mixing Digital and Physical
Ford's team did lots of research on control layouts. Drivers had strong opinions on touchscreens versus buttons. The solution was using both!
They moved climate controls to the big touchscreen to open up space. But kept physical shortcuts for temperature and fan speed. I like this approach - it has the tech I want without losing keys functions. Plus the screens look amazing!
Focusing on the Driver
The Dark Horse interior really wraps around the driver. But Ford didn't go 100% digital. Little things like the weighted shift knob matter. Drivers feel more connected through details like that.
This ties back to manual transmission and real handbrake. Tech supports the experience rather than isolating the driver. Exactly what an old-school Mustang nut like me wants!
Exclusive Test Drive Impressions of the Dark Horse
To get a brief taste of the Dark Horse's abilities, I took a short but exciting spin around Manhattan. Just this initial drive revealed the massive potential.
Inside, the chunky flat-bottom wheel and form-fitting seats instantly feel like they mean business. Punch the start button, and the Coyote V8 rumbles to life through the active quad exhaust.
Shifting the short-throw 6-speed manual into first gear, I rolled out into bustling NYC traffic. The Tremec gearbox has a precise mechanical action. Clutch effort feels appropriately firm but not fatiguing.
Once on the West Side Highway, I could finally stretch the Coyote's legs. Burying the throttle sent the Dark Horse surging ahead with startling force. The engine note crescendos into a fierce, metallic cry.
Charging up an on-ramp demonstrated the Dark Horse's composed handling at speed. This Mustang feels planted and eager to carve lines. Steering turns in with precision and excellent body control.
Hard braking allowed me to experience the large Brembo calipers. They shrug off repeated heavy stops without any fade. Brake pedal feel seems ideal for trail braking into corners.
Cruising through congested NYC streets, the Dark Horse remains a compliant daily driver thanks to clever cylinder deactivation tech. Impressive versatility.
My brief first drive only hints at the Dark Horse's immense abilities waiting to be unlocked on track. This Mustang means business. The production version should give European sports cars a real scare.
Drawing in New Buyers
The last thing Ford wanted was to turn off loyal Mustang fans. But attracting new younger buyers was a goal.
In my opinion, they pulled it off! The Dark Horse has just enough modern touches without losing its soul. Classic Mustang style remains but evolved for 2024.
I think this generation will appeal to crowds both old and new. It's not a history lesson but it respects what came before. Well done.
Taking 5.0L Mustang Performance to the Next Level
The upcoming Dark Horse represents a major development milestone as the highest-performing production 5.0L Mustang ever. And it joins rarefied company in the process.
This new range-topping Mustang follows in the footsteps of legends like the 1968 GT390 Bullitt, 1969 Boss 302, Shelby GT350, and more recently, the Mach 1.
Early indications suggest the Dark Horse has the power, handling balance, and track-readiness to compete with these icons and cement its place in Mustang history.
Make no mistake though, the Dark Horse retains enough compliance and refinement for casual daily driving. The sophisticated MagneRide damping smooths out bumps, and active exhaust allows a mellow rumble in regular driving.
When it touches down in Ford showrooms, expect pricing on the 2024 Dark Horse to start around $60,000. That seems more than fair given the level of engineering that Ford Performance put into this special Mustang.
Is It Worth the Price?
For die-hard Mustang fans, yes absolutely. You get noticeable improvements across the board. Plus that means a mug will turn heads anywhere.
Competitors like the Supra and Nissan Z are cheaper though. And the styling still remains, love it or hate it. If money's tight, those may satisfy your thirst.
But no other car matches the Mustang's image and emotional appeal. The Dark Horse sends a clear message that the owner prioritizes driving excitement. Nothing else looks or feels quite like those galloping pony emblems!
Verdict
The 2024 Dark Horse sets a promising direction for America's sports car. It provides real mechanical improvements for better performance and driving feel. Plus it introduces new technology and comfort without losing soul.
Ford stuck to a winning formula - update and refine rather than reinvent. I believe this Mustang has something for enthusiasts everywhere to get excited about.
For those seeking rip-snorting V8 power in a coupe that turns heads, the Dark Horse delivers. Consider me a fan! This new stallion makes me optimistic about Mustang's future.
What do you think of the 2024 model? Let me know in the comments!